How to Write a Long Form Sales Letter (Juicing Book Case Study)
This article will be sort of meta-marketing. I am going to market my books to you while also explaining how to market YOUR books.
I have a juicing ebook for sale. As I started my juicing website as a hobby, I outsourced the sales page rather than do it myself.
I don't like the sales page. It feels spammy. You can read it here. You can also sign up to be an affiliate and earn a 50% commission for each book you sell.
I re-wrote the sales copy consistent with my own writing style and core values.
In short, I don't market for or to dummies.
You can read my long-form sales letter below.
Juicing is not magic and will not cure all that ails you.
If you're on this page for a quick fat loss or health fix, please click away. Life seldom has simple solutions and you will be sorely disappointed with a product that helps you become healthy for the long haul.
I don't even believe in get-rich-quick OR get-healthy-quick schemes.
I got into juicing because I was physically fit but not healthy.
I ate a lot of protein and watched my carb intake. I tracked my macronutrients (protein, carbs, and fat). I lifted hard and performed cardio.
But I completely ignored phytonutrients and plant chemicals that have health-promoting, often drug-like effects.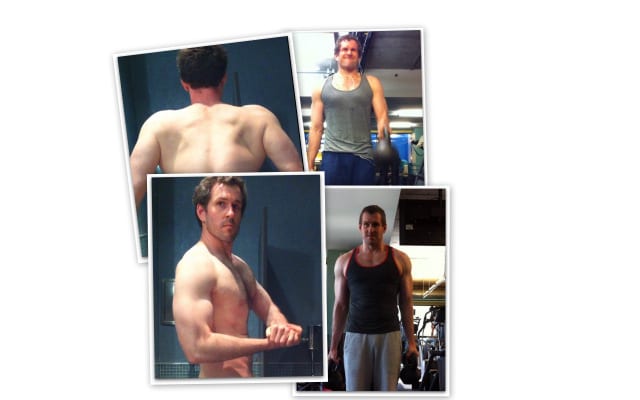 A rare medical condition brought me to my knees, forcing me to re-examine my outlook on health.
I struggled with eczema as a child and occasionally as an adult, but my eczema was more of a nuisance than anything. I'd put on the creams my doctors gave me, the eczema would go away, and life would go on.
Then something bad happened.
I started getting full-body spreading eczema. My eyes would swell shut. I'd itch until my skin bled and would wake up with blood all over the pillowcases
Prednisone, a powerful hormone, didn't help. Nothing helped. I was forced to examine all of my assumptions about health and fitness.
Plants and vegetables do have drug-like effects.
Vegetables, leafy greens, and fruit contain phytochemicals, which are chemical compounds that boost health and improve athletic performance.
Here are but a few scientifically-proven benefits of beet juice.
Lower blood pressure.
Beet juice "opens up your blood vessels," to put it into layman's terms.
Inorganic nitrate and beetroot juice supplementation reduces blood pressure in adults: a systematic review and meta-analysis. ("Inorganic nitrate and beetroot juice supplementation was associated with a significant reduction in systolic BP.")
Get stronger.
Beet juice can make athletes more explosive, by improving the performance of fast-twitch muscle fibers.
Impact of dietary nitrate supplementation via beetroot juice on exercising muscle vascular control in rats. ("These data support the hypothesis that NO(3)(-) supplementation improves vascular control and elevates skeletal muscle O(2) delivery during exercise predominantly in fast-twitch type II muscles.")
Have more endurance.
Cyclists have used beet juice for years, as a legal performance aid.
A single dose of beetroot juice enhances cycling performance in simulated altitude. ("A single dose of BR lowered V˙O2 during submaximal exercise and enhanced TT performance of trained cyclists in normobaric hypoxia. Consequently, ingestion of BR may be a practical and effective ergogenic aid for endurance exercise at altitude.")
Those are only a few of the benefits beets alone.
In Juice Power, I discuss dozens of other health-giving benefits of vegetables and fruit.
"Just eat your vegetables and fruit!"
Yes, that's a great idea.
You can also make green smoothies, and I even share some smoothie recipes in Juice Power.
But are you eating 8-9 servings of vegetables each and every day?
Here is what 8 servings of vegetables and fruit look like. How long would that take you to eat?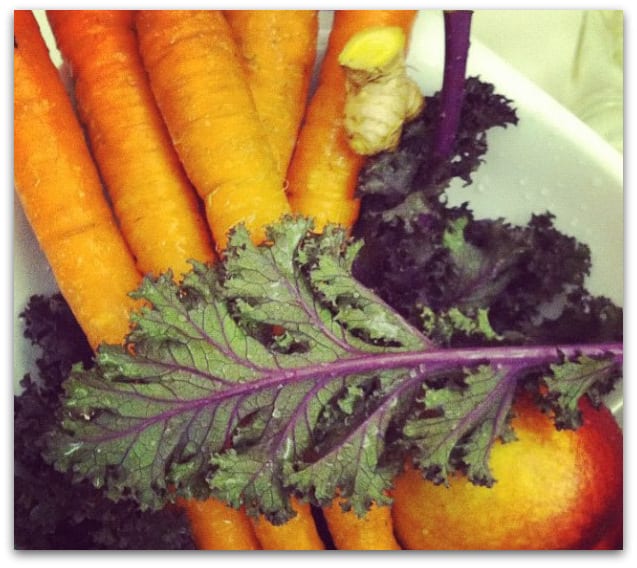 I eat vegetables, drink green smoothies, and juice. Drinking green juice does not mean you shouldn't eat vegetables and vice versa.
"Is there any science behind juicing?"
Yes, Juice Power contains dozens of citations to scientific studies on juicing.
After all, juicing is simply consuming plant nutrients and phytochemcials in liquid rather than solid form.
You could spend hundreds-of-hours on PubMed (a database compiling scientific studies) examining the health benefits of juice.
Here are but a few of many studies:
A Review: Phytochemicals Targeting JAK/STAT Signaling and IDO Expression in Cancer. ("It is now evident that phytochemicals play key roles in inhibition of tumor proliferation and development and provide novel means for therapeutic targeting of cancer.")
High consumption of vegetable and fruit colour groups is inversely associated with the risk of colorectal cancer: a case-control study. ("The results of the present study, therefore, suggest that a greater intake of orange/yellow, red/purple and white vegetables and fruit is inversely associated with the risk of colorectal cancer.")
Squeezing Fact from Fiction about 100% Fruit Juice. ("The preponderance of evidence supports the position that 100% fruit juice delivers essential nutrients and phytonutrients, provides year-round access to a variety of fruits, and is a cost-effective way to help people meet fruit recommendations.")
Those are but a few of countless studies on the drug-like benefits of plant foods, which you can get by juicing.
"Green juice is disgusting!"
My audience is made up of successful and intelligent people who will do what it takes to get healthy.
That said, green juices are delicious. My recipes were all created with taste in mind.
This vegetable juice has converted all green juice "taste skeptics" into juice lovers.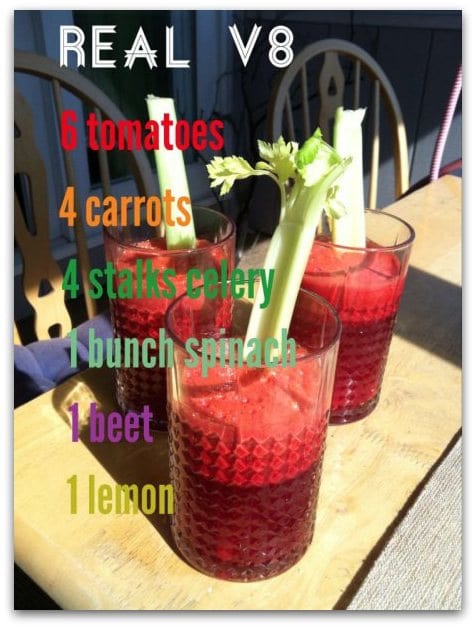 "Won't fructose make me fat?"
Reality check: Whenever some makes a bold claim, like fruit will make you fat, ask them to see their evidence.
The myth about fructose arouse after studies of extremely obese people who were consuming high-fructose corn syrup had "fatty livers." Homemade green juices do not contain high-fructose corn syrup or any syrup, so those studies have zero value.
There is no evidence that consuming fruit in its natural form (by eating it or juicing it yourself) will make you fat.
In fact, the evidence suggests that rather than make you fat, fructose makes you fit.
Where are the millions of fat people who drink green juice?
In fact, some scientists tried to determine if juicing made people fat. They couldn't find all of these fat people!
Consumption of 100% fruit juice and risk of obesity and metabolic syndrome: findings from the national health and nutrition examination survey 1999-2004. ("Compared with nonconsumers, those who consumed 100% fruit juice were leaner, were more insulin sensitive, and had lower odds of obesity and metabolic syndrome.")
If you're worried about fructose, you can make your juices essentially sugar free with the recipes in Juice Power.
"I've heard juicing will spike my blood sugar and give me diabetes. Is this true?"
Again, this issue has been studied. That is a myth. Drinking juice does not give anyone diabetes.
The science is clear. Juicing does not cause or contribute to diabetes:
Soft drink, 100% fruit juice, and vegetable juice intakes and risk of diabetes mellitus. ("Soft drink but not pure juices consumption was associated with increased risk of type 2 diabetes in Japanese women.")
Substituting homemade fruit juice for sugar-sweetened beverages is associated with lower odds of metabolic syndrome among Hispanic adults. ("In conclusion, reducing the consumption of SSB and substituting them with homemade fruit juices in moderation may be a culturally appropriate approach to lower MetS among Hispanic adults.")
Relationship between 100% juice consumption and nutrient intake and weight of adolescents. ("In conclusion, when compared with non-juice consumers, adolescents consuming 100% juice did not show mean increased weight measures. Juice provided valuable nutrients, and consumption was associated with lower intakes of total fat, saturated fatty acids, discretionary fat, and added sugars and with higher intakes of whole fruit; however, consumption was not associated with decreased intake of milk, meat, or grains.")
By the way, a woman I helped with a juice fast (which I do not recommend unless under a doctor's care) was able to go off of her diabetes medication.
"Will juicing cure cancer/eczema diabetes/whatever else I'm suffering from?"
No. Juicing is not magical.
Juicing will boost your immune system by giving your body the nutrients it needs to repair and detox itself.
Juicing did not cure my eczema. It helped it immensely, and some people report having their skin conditions resolve.
But I don't believe in making promises I can't keep. Juicing may help your body rebuild itself, curing skin conditions and boost your immune system.
I can promise that juicing will improve your overall health.
"What will I learn in your Juice Power ebooks?"
For $14.99 you will receive three separate ebooks – Juice Power, Juicing for Men, and Juicing for Athletes. The books contain:
Over 70 juice recipes.
An explanation of the difference between juicing and blending.
Healthy, non-juice recipes like how to make grape sorbet.
A guide to buying the best juicer.
A simple way to figure out how many calories your homemade juices contain.
A clickable table of contents.
And much more.
Juicing will add value to your life.
Here are some of the benefits of juicing with a scientific reference for each claim!
Make you better looking. 
Fruit over sunbed: carotenoid skin colouration is found more attractive than melanin colouration. ("Taken together, our findings provide further support for a carotenoid-linked health-signalling system that is highly important in mate choice.")
Help you sprint faster.
Dietary acid-base balance in adolescent sprint athletes: a follow-up study. ("Lowering the PRAL can be obtained by increasing the consumption of potatoes, fruits, vegetables and vegetable soup.")
Boost your immune system.
Exogenous stimuli maintain intraepithelial lymphocytes via aryl hydrocarbon receptor activation. ("AhR activity can be regulated by dietary components, such as those present in cruciferous vegetables, providing a mechanistic link between dietary compounds, the intestinal immune system, and the microbiota.")
Aid digestion, and in some cases help improve ulcers.
Rapid Healing of Peptic Ulcers in Patients Receiving Fresh Cabbage Juice. ("The rapid healing of peptic ulcers observed radiologically and gastroscopically in 13 patients treated with fresh cabbage juice indicates that the anti-peptic ulcer dietary factor may play an important role in the genesis of peptic ulcer in man.")
Improve your performance in the gym.
Impact of dietary nitrate supplementation via beetroot juice on exercising muscle vascular control in rats. ("These data support the hypothesis that NO(3)(-) supplementation improves vascular control and elevates skeletal muscle O(2) delivery during exercise predominantly in fast-twitch type II muscles.")
Make you feel great.
Mike Cernovich's Book of Real Life. ("Some people even find green juice to be a substitute for drinking coffee.")
You can take that step by placing an order here.
Click on the image below to learn everything you need to know about juicing but were afraid to ask.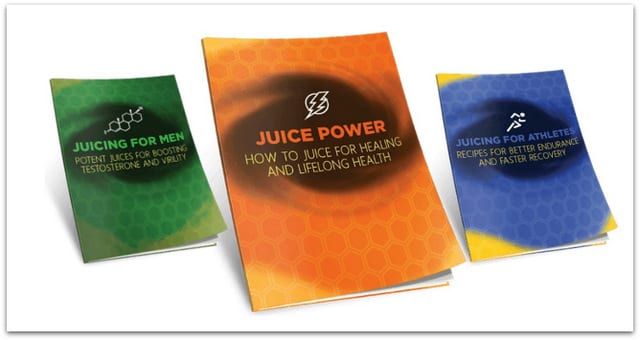 After you buy my books, I won't start sending you emails pitching you consulting services, affiliate offers, or other "upsells."
We all know how this ends, right?
You buy my books. Rather than be happy to have another satisfied customer, I dig my hands deep into your pockets.
Then I upsell you on coaching, or affiliate offers for other ebooks.
As I said, I am not an Internet marketer.
Fit Juice started off as a hobby for me.
There is no sales pitch.
Buy my books, start juicing to improve your health, and never get spammed by me.
"I can't afford/don't want to buy your ebooks.?
Great, you can read Fit Juice for free.
Most of the content in Juice Power is already available on Fit Juice, in the form of articles and blog posts.
"Why would I buy a book if the content is already available for free?"
For the same reason I paid someone to create the books for me.
Time is money.
It will take you several hours to organize and make sense of everything on Fit Juice, since I built the site from scratch and wrote it like a blog rather than a book.
Personally, my time is worth more than that. I'm not the kind of person who spends hours trying to get something for free when I could be spending that time improving my life.
"What if I don't like your books?"
There's a 60-day money-back guarantee. No questions asked.
Send me an email if you don't like the books and I'll personally refund your money.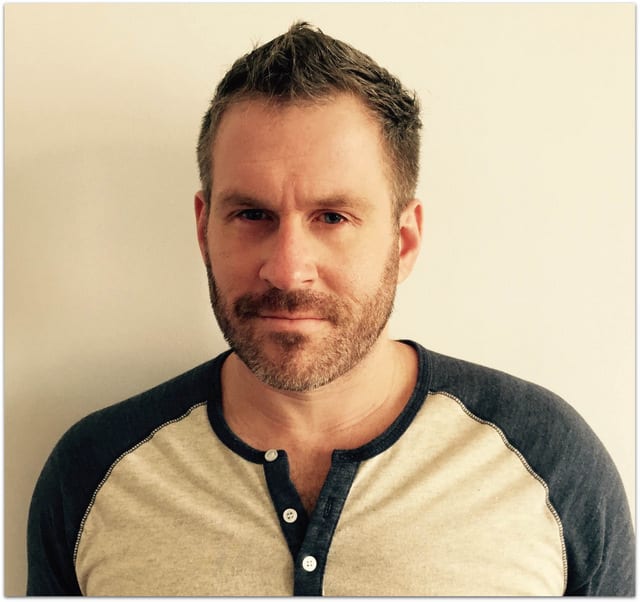 $14.99 gets you all the information in a nice, clean, easy to read package.
There are no upsells or pitches. For $14.99 you get what you paid for without the promotional nonsense we'v all come to dislike.
Click on the image below, make your payment, and the books are yours.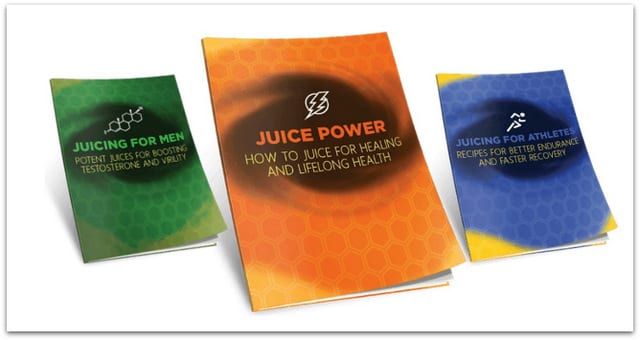 Study Claims Drinking Beer Leads To Mental Clarity
What if drinking beer in responsible amounts could increase mental clarity? A study conducted by researchers at the University of Graz in Austria have released their findings on the subject. The results may surprise you. They make the claim that mild alcohol intoxication can improve mental clarity and spark creative thought. in the conclusion of the study they report,
"Our study corroborates the notion that small attenuations of cognitive control may facilitate certain aspects of creative cognition while not affecting others. It contributes to our understanding of the interplay between controlled and spontaneous processes in creative thought and of their relative importance in different types of creative cognition. The findings, however, should not be overgeneralized by assuming that creativity is generally supported by alcohol. Beneficial effects are likely restricted to very modest amounts of alcohol, whereas excessive alcohol consumption typically impairs creative productivity"
How did they conduct the study? Seventy volunteers between the ages of 19 and 32 were given both alcohol-free and regular beer before taking a series of tests. The experiment showed volunteers performing better on a word problem test after drinking a pint of beer than they did after drinking the non-alcoholic drinks. However, researchers did note that  memory and concentration issues were apparent during other specific skill tests. According to the experimental design and procedure section of the study,
"Participants were asked not to consume alcohol or other drugs 24h before the experiment and not to eat and drink caffeinated drink 2h before the experiment. They were tested in groups of two people, who were randomly assigned to the experimental groups (1 alcohol and 1 placebo). The participants were blind to the experimental condition, and the employed group setting was intended to avoid any experimenter effects."
When I read the study I found it interesting to say the least. I know there are men's ears perking up all around the world at the notion that drinking beer may make you think clearer, but remember. the beneficial dose seemed to be one pint. I wouldn't recommend drinking before work or school either. That wouldn't be responsible. However, science seems to support the fact that a pint of beer may help clean up the mental cobwebs a bit. So the next time asks you why you are so smart tell them that you like beer. They may look at you funny but then send them the link to this article.  I don't know how many employers would invest research into the benefits of having a beer on lunch break but I think that maybe the men should rally for the data. One could imagine that there is nothing like tuning out an annoying coworker after knocking back your favorite IPA at the bar down the road.  Maybe it wouldn't be a bad idea to get some chewing gum though. Also don't be an idiot. Drink responsibly and don't operate motor vehicles after consuming alcohol.
6 Ways to Protect Male Fertility As National Sperm Counts Plummet
In a previous article I satirically covered the term "soy boy." In this article I intend to demonstrate a more serious and measurable issue facing modern men, namely male fertility and how to combat the plummeting sperm counts and testosterone levels in the past two decades. In an article, healio.com reported on a study published in the Journal of Clinical Endocrinology and Metabolism stating,
WATCH: Male BuzzFeed Staffers Discover They Have Testosterone Levels Of 12 Year Old Boys
The crew over at BuzzFeed decided to tempt fate in a segment of "The Try Guys."
The cast had their testosterone levels measured. Anyone who has seen the show shouldn't be all that surprised that the crew came out with VERY low levels.
Jim Hoft of The Gateway Pundit reported, "The man-boys at BuzzFeed scored extremely low when compared to a normal male." Hoft continued, "In fact their testosterone levels closely matched those of a 12 year-old boy."
Hoft also posted the testosterone table, and so will I.
For reference material here is the video in which they undergo the test. WARNING: Viewing this video may lower testosterone levels… I am purely speculating.
This is shocking if one is familiar with their other works including titles like, "The Try Guys Try Drag For The First Time" or "The Try Guys Wear High Heels For A Night."
Don't get me wrong, I am all for all types of males being represented in media. I am glad that BuzzFeed has cornered the market on beta males. It seems to fit their image.
Source:
BuzzFeed
Gateway Pundit