A particularly opinionated HuffPost article decries white athletes standing to the national anthem as standing for 'White Supremacy.'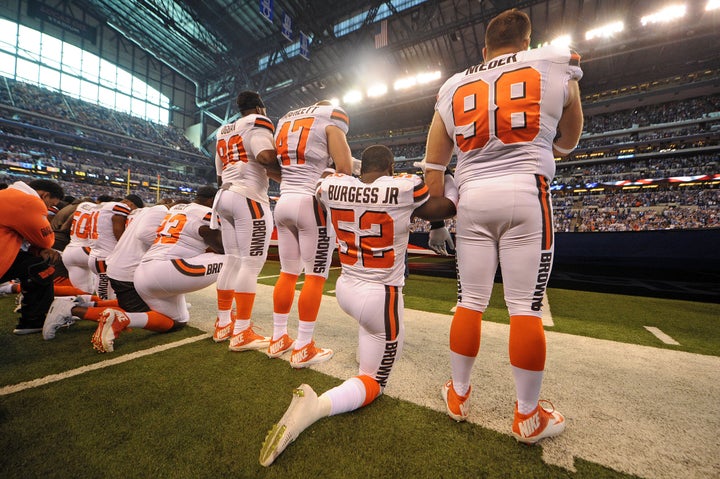 Contributor Jesse Benn believes, "The absence of white athletes kneeling for the anthem Sunday was a particularly illustrative moment in white privilege." Now just what white privilege Ben is talking about is left unknown, and comes off more as a white apologists' self-righteous guilt. But let's see if he has a point!
Benn writes, "See, for white athletes the anthem and American flag do represent freedom, liberty and whatever other amorphous American values one might ascribe these symbols. So, from their view, kneeling would be disrespectful to the privileges a white supremacist nation affords them."
Exactly what privileges this "white supremacist" nation affords these white athletes is left unclear from Benn. In a blatantly discriminatory tirade against whites, Benn seems to believe that there are no black athletes that believe in the same values and respect the symbol of America.
The tedium of knee-taking has taken a rise in ratings after Colin Kaepernick's self-indulgent mockery of American patriots, becoming a favored method of protest by unpatriotic social justice activists in the sporting field.
Ben goes on to say, "If white athletes can't fathom kneeling because they feel soldiers fought for their rights and blah blah blah patriotism, it's because they are treated as full citizens and afforded those rights they imagine soldiers fought for."
Aside from further condemnation for whites, Ben seems to perpetuate that an African American is not treated as an equal citizen with equal rights in this day and age. Such an odd idea is all but implausible when you consider that POTUS 44 was indeed an African American, elected by the people. If an African American can become President, he can become anything.
Interestingly, Ben strays from his label as an opinionated writer and appeals to statistics… all the while ignoring that the poorest counties of the US are predominantly white. Naturally, this would go against his narrative, so sweeping it under the rug is a must.
Perhaps Benn's most poignant (or at least an attempt at being poignant) statement: "As long as black people are killed by cops in the streets or left to wither away in the state's cages without recourse, that anthem and flag represent promises unfulfilled for millions of Americans."
Along with many other self-righteous pundits, Benn seems to focus on isolated examples of corrupt authority, and ignores a much bigger statistic that holds true: Black-on-Black crime being far more widespread. Aside from losing the chance to express his bigotry for whites, acknowledging a much bigger, present issue would remove Jesse Benn's moral superiority by having the gall to think African Americans need – or even want – his help.
In closing, Benn boldly states, "So let's at least be clear that what those players stood for on Sunday was white supremacy. Full stop."
Now back in the realm of unbiased reality, what's clear is that those players stood for the values of the country they live in. Full stop.