Survey: Socialists Are Overwhelmingly Unemployed Young Men Who Support Political Violence
The /r/socialism subreddit conducted a survey of its subscribers and the results were horrifyingly unsurprising.
The vast majority of redditors from /r/socialism are young, white boys. Less than 5% of them are over the age of 30 and just over 8% of them are women and only 16.6% of them identified as a person of color.
What should be even less of a surprise is that a whopping 39.2% of them are unemployed students. Nearly 9% of the socialists are unemployed and not even going to school. Just about 35% of them claim to have some form of employment.
While 56% of the redditors claim they are in school, only 19% of them have actually obtained their bachelors degrees.
Over 10% of them say they have completed some school but aren't going anymore.
If you think the socialists are only lazy when it comes to finding a job you'd be mistaken. Even though these redditors are the more politically "woke" types, they don't really get involved in parties or political organizations. Over 53% "plan" to join a political party or organization but haven't while 13% say they will never get involved.
The survey also asked socialist redittors who weren't involved in politics why they weren't involved and the answers are hilariously ironic.
Over 63% of them claimed that there are no organizations in their area – good job Democrats! 51.3% of them claim they have no time, even though a majority of them are unemployed students.
Finally, over 25% of the socialists apparently don't have a car that could even take them anywhere to be politically active.
The thing that should really scare people about this survey, though, is the fact that nearly a quarter of them believe in seizing state power through revolution.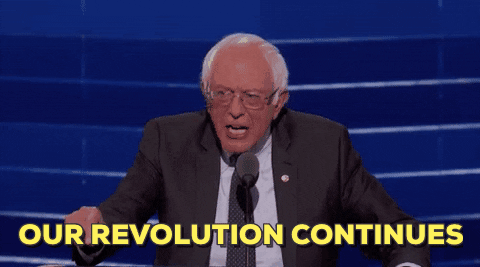 We're lucky that these guys are lazy and unemployed because 24.5% of them think Socialists should "seize state power through revolution" and another 12.6% think they should have a revolution to abolish the state altogether.
Ideologically, over 60% of reddit Socialists believe in harsher gun control and 48.5% of them think they should use "all tools at their disposal" to fight fascism. 65.9% of them actually think market economies are "innately harmful" too. 71.4% of the socialists who responded were also atheist.
17.4% of them actually believe that fascists need to be "fought directly on the streets."
36.2% say they "support and encourage rioting in some situations."
Another 26.6% say they "empathize with" and "support rioters" but do not "expressively encourage" violence. 9.9% of those that responded to the survey think that rioting and violence should be acceptable in any and all situations.
61% of the socialists actually live at home with their parents.
Don't worry about them doing anything politically productive anytime soon though; they struggle to pull the trigger when it comes to political organizing.
Socialists want a "revolution" to bring about Socialism.
Reddit Socialists support overwhelmingly support violence.
Sources:
Reddit
Google Docs
New Study Confirms Twitter's Power To Shift Elections
In a new report from MIT Tech Review titled "How Tweets Translate into Votes," the intellectual powerhouse makes some fairly profound claims.
The agency states, "The role of Twitter in politics has never been more prominent. President Obama, sometimes called the first social-media president, clearly outperformed his rivals in terms of popularity and output. President Trump also uses Twitter, albeit more controversially, to drive debate, air grievances, and set policy."
The report continues, "Clearly, social media plays a major role in political discourse. Many politicians send hundreds or thousands of messages during election campaigns and invest considerable resources into their social-media presence. And that raises an interesting question. Does this effort translate into votes?"
"Social media use makes a genuinely important difference to electoral campaigns." https://t.co/ss7JUF4PmH

— MIT Tech Review (@techreview) October 28, 2017
With the prominence of social media in politics and given its vast reach and persuasive potential, how valuable is twitter and other social media to political elections? How much pull does this technological Goliath really harness?
According to a study published out of Cornell University Library representing out of the UK, "The term for change in Twitter use is positive and statistically significant. Those who used Twitter more also improved their vote share outcome."
The study continues, "The term for change in Twitter use is positive and statistically significant. Those who used Twitter more also improved their vote share outcome." and "Overall the empirical evidence that Twitter media use does have a positive effect on votes is strong."
MIT Tech Review adds, "In 2015, 87 percent of incumbent politicians had Twitter accounts, compared with only 73 percent of challengers.
In 2017, the difference was even bigger. In this case, 84 percent of incumbents had accounts, compared with only 58 percent of challengers."
Mit also pointed out other figures from the study, "MPs that had a Twitter account typically had vote shares around 7- 9% higher than those who did not," say Bright and co.
"MPs that had a Twitter account typically had vote shares around 7- 9% higher than those who did not," say Bright and co.
And they calculate that politicians can claim an extra 1 percent share of the vote by increasing the number of tweets they send out by a factor of between 0.28 and 1.75.
That might look like a small increase, but in many districts it would have been decisive.
"Around 14% of the electoral competitions which form the basis of our study were won by a margin of less than 5 percentage points, and 4 percent of them were won by a margin of less than 1 percentage point."
The entire study can be found here.
Knowing this information it is no wonder independent media outlets and prominent social media powerhouses like Mike Cernovich, receive so much backlash from the political establishment. They are starting to feel the pressure being put onto them from more and more outspoken voices in the newly resurging conservative political movement.
As the use of social media continues to grow I hypothesize that the overall political pull of the users over the establishment's political aspirations will become so important it will eventually change the entire way that elections are held, across the entire planet.
Sources:
Study: Obamacare Is Unsustainable, Premiums To Rise By As Much As 69% In 2018
A new revealing new study has been published by Alvere Health claiming that Obamacare is completely unsustainable.
Alvera claims, "New analysis from Avalere finds that the 2018 exchange market will see silver premiums rise by an average of 34%. According to Avalere's analysis of filings from Healthcare.gov states, exchange premiums for the most popular type of exchange plan (silver) will be 34% higher, on average, compared to last year."
Alvera reports that some states in particular that will feel the brunt of the skyrocketing financial burden, "Average premium increases will vary significantly by state. For example, Iowa will see the highest jump in average silver premium, 69%, over 2017, while Alaska will see a decrease in premiums for 2018, at -22%. Exact premium amounts consumers can expect to pay will vary depending on their location and selected plan. Notably, in states with limited plan participation, the average silver premium may be lower than the second lowest cost silver."
Breitbart released an article which reads:
"Caroline Pearson, senior vice president at Avalere, blamed the Trump administration for ending the CSR program as one of the principal reasons for the skyrocketing premiums. In a statement, Pearson said, "Plans are raising premiums in 2018 to account for market uncertainty and the federal government's failure to pay for cost-sharing reductions. These premium increases may allow insurers to remain in the market and enrollees in all regions to have access to coverage."
Investors Business Daily reports, "Earlier this year, Aetna and Wellmark Blue Cross & Blue Shield announced that they were pulling out of Iowa's ObamaCare exchange, leaving only Medica, which was also threatening to leave. Not surprisingly, Medica has used its newfound monopoly status to push for increasingly higher rates, while trying to pin the blame President Trump for the increases."
Investors Business Daily continues, "The seeds of today's double-digit premium increases and collapsing competition were planted long before Trump took the oath of office. In fact, they were embedded right there in the law President Obama signed in 2010."
As much as the liberal media and politicians continue claiming that Trump is causing the problems within Obamacare, don't let them fool you. These Problems were written right into the very structure of the system itself. These catastrophes were going to happen no matter who would have won the election.
Sources:
Breitbart
Investors Business Daily
Alvere Health
House Committee Approves $10 Billion To Fund Border Wall – Six Companies Building Prototypes
The committee voted for the legislation after dismissing all Democratic amendments.
The legislation reportedly includes $10 billion to secure the border through a "border wall system" that includes projects related to the wall, fencing, technology, air assets and other barriers, and another $5 billion to modernize ports of entry – including the hiring an additional 5,000 Border Patrol agents and 5,000 Customs and Border Protection officers.
The House and Senate would both have to vote yes on the proposed legislation to make it a concrete reality.
On Tuesday of last week, construction began on eight prototypes of the proposed US-Mexico Border wall.
US Customs and Border Protection has chosen a handful of companies to lead the construction efforts. The chosen companies are:
Caddell Construction Co.
Fisher Sand & Gravel Co. 
DBA Fisher Industries
Texas Sterling Construction Co.
W. G. Yates & Sons Construction Company
US Customs and Border Protection has stated, "These concrete prototypes will serve two important ends. First, given their robust physical characteristics, like, reinforced concrete, between 18-30 feet high, the concrete border wall prototypes are designed to deter illegal crossings in the area in which they are constructed."
Progress check: construction of concrete wall prototypes is well underway in San Diego. #BorderSecurity pic.twitter.com/3iVQgjHid7

— CBP (@CustomsBorder) October 3, 2017
The construction is beginning at the section of border shared with Tijuana, Mexico and is expected to take a month.
Business Insider reports, "Each one will be between 18 and 30 feet high, and the estimated cost for the eight prototypes is between $2.4 million and $4 million total. The Department of Homeland Security said those funds are being taken from 'reprogrammed money' within CBP, and is not part of the down payment funding that still has to make it through Congress."
Construction on 8 wall prototypes began today in San Diego. The prototypes are designed to deter illegal border crossings. (1/2) pic.twitter.com/WB1rIojgLj

— CBP (@CustomsBorder) September 26, 2017
At an Alabama rally in September, President Donald Trump made the claim "I'm gonna go out and look at them personally, and I'm gonna pick the right one."
On the CBP website, a report states, "Issued Jan. 25, Presidential Executive Order: Border Security and Immigration Enforcement Improvements, states that "the [Department of Homeland Security] Secretary shall take steps to immediately plan, design and construct a physical wall along the southern border, using appropriate materials and technology to most effectively achieve complete operational control of the southern border."
One thing is for certain. The Trump constituency is ready for ANY progress on the wall and for the fulfillment of President Trump's campaign promises.