Learn How to Take a Headshot Even if You're not an Actor
Headshots aren't just for actors and models. If you have a marketing page, online dating profile, or even a social media account, chances are you've posted your face online.
Are you putting your best face forward?
Judging by head shots I've seen, you're probably not. And that's totally cool.
The great thing about the Internet is you can learn anything. There is an expert out there scaling his knowledge to improve your life.
Peter Hurley shows you how to take a proper headshot.
I do not know Peter Hurley, a New York photographer, and he certainly didn't ask me or pay me to plug him!
When someone does an amazing video adding value to my life, I promote the person's work. It's the Law of Attraction.
You really should watch Peter Hurley's video on headshots and practice in front of a mirror.
There are two key takeaways: The Jaw and the Squinch.
As the video says, "It's all about the jaw!" That will make more sense once you've watched the video.
Learn how to squinch your eyes. You actually have eye muscles located underneath your eyeballs. Learn to flex them.
Now watch the video explaining how to take a headshot.
My photographer (SG) took this picture. As I hate having my picture taken, we did this in 90 seconds.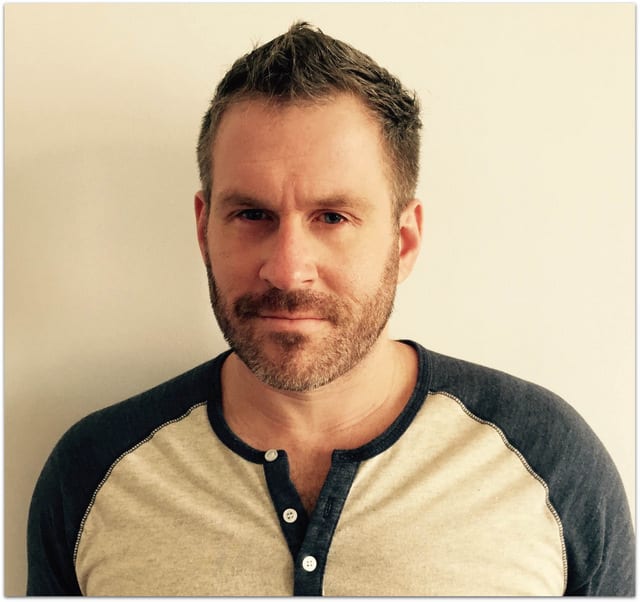 We took the photo with an iPhone 6 outside of my bedroom. Although there was some natural light coming in from the window, we didn't set up a studio or get fancy.
You can touch up your photo, removing lines and wrinkles. You can also add filters, or whatever.
Taking a proper headshot is what matters most.
Could my headshot have been better?
Hell yes, but I don't like having my picture taken.
But you do.
Start getting it done properly.
Study Claims Drinking Beer Leads To Mental Clarity
What if drinking beer in responsible amounts could increase mental clarity? A study conducted by researchers at the University of Graz in Austria have released their findings on the subject. The results may surprise you. They make the claim that mild alcohol intoxication can improve mental clarity and spark creative thought. in the conclusion of the study they report,
"Our study corroborates the notion that small attenuations of cognitive control may facilitate certain aspects of creative cognition while not affecting others. It contributes to our understanding of the interplay between controlled and spontaneous processes in creative thought and of their relative importance in different types of creative cognition. The findings, however, should not be overgeneralized by assuming that creativity is generally supported by alcohol. Beneficial effects are likely restricted to very modest amounts of alcohol, whereas excessive alcohol consumption typically impairs creative productivity"
How did they conduct the study? Seventy volunteers between the ages of 19 and 32 were given both alcohol-free and regular beer before taking a series of tests. The experiment showed volunteers performing better on a word problem test after drinking a pint of beer than they did after drinking the non-alcoholic drinks. However, researchers did note that  memory and concentration issues were apparent during other specific skill tests. According to the experimental design and procedure section of the study,
"Participants were asked not to consume alcohol or other drugs 24h before the experiment and not to eat and drink caffeinated drink 2h before the experiment. They were tested in groups of two people, who were randomly assigned to the experimental groups (1 alcohol and 1 placebo). The participants were blind to the experimental condition, and the employed group setting was intended to avoid any experimenter effects."
When I read the study I found it interesting to say the least. I know there are men's ears perking up all around the world at the notion that drinking beer may make you think clearer, but remember. the beneficial dose seemed to be one pint. I wouldn't recommend drinking before work or school either. That wouldn't be responsible. However, science seems to support the fact that a pint of beer may help clean up the mental cobwebs a bit. So the next time asks you why you are so smart tell them that you like beer. They may look at you funny but then send them the link to this article.  I don't know how many employers would invest research into the benefits of having a beer on lunch break but I think that maybe the men should rally for the data. One could imagine that there is nothing like tuning out an annoying coworker after knocking back your favorite IPA at the bar down the road.  Maybe it wouldn't be a bad idea to get some chewing gum though. Also don't be an idiot. Drink responsibly and don't operate motor vehicles after consuming alcohol.
6 Ways to Protect Male Fertility As National Sperm Counts Plummet
In a previous article I satirically covered the term "soy boy." In this article I intend to demonstrate a more serious and measurable issue facing modern men, namely male fertility and how to combat the plummeting sperm counts and testosterone levels in the past two decades. In an article, healio.com reported on a study published in the Journal of Clinical Endocrinology and Metabolism stating,
WATCH: Male BuzzFeed Staffers Discover They Have Testosterone Levels Of 12 Year Old Boys
The crew over at BuzzFeed decided to tempt fate in a segment of "The Try Guys."
The cast had their testosterone levels measured. Anyone who has seen the show shouldn't be all that surprised that the crew came out with VERY low levels.
Jim Hoft of The Gateway Pundit reported, "The man-boys at BuzzFeed scored extremely low when compared to a normal male." Hoft continued, "In fact their testosterone levels closely matched those of a 12 year-old boy."
Hoft also posted the testosterone table, and so will I.
For reference material here is the video in which they undergo the test. WARNING: Viewing this video may lower testosterone levels… I am purely speculating.
This is shocking if one is familiar with their other works including titles like, "The Try Guys Try Drag For The First Time" or "The Try Guys Wear High Heels For A Night."
Don't get me wrong, I am all for all types of males being represented in media. I am glad that BuzzFeed has cornered the market on beta males. It seems to fit their image.
Source:
BuzzFeed
Gateway Pundit