Clinton Health Initiative Spent Just A Fraction Of Its Money On Actual Programs In 2016
The Clinton Health Access Initiative (CHAI) spent just $23 million of its $140 million expenditures in 2016 on actual healthcare programs, according to publicly-available financial records.
At first glance, the records seem innocuous enough, with $129,662,636 being listed under "program services."
A closer look at the "program services" category, however, reveals that only $23 million of that amount was spent on "direct program expenditures," with the rest being eaten up by:
Salaries and benefits ($65,536,774)
Meetings and trainings ($16,208,015)
Progressional and consulting fees ($7,018,889)
Travel ($7,333,885)
Program equipment and infrastructure ($3,110,778)
Occupancy costs ($2,338,437)
Office expenses ($1,618,511)
Telecom ($1,882,997)
Procurement and shipping ($1,102,356)
Bank and other fees ($234,647)
Other expenses: ($107,905)
Depreciation ($47,485)
Management and fundraising, at $10,117,754 and $1,035,062 respectively, make up the rest of CHAI's total expenditures for 2016.
In other words, very little of CHAI's money – which, according to records, came from contributions, grants, in kind contributions, "other," and "net assets released from restrictions" – went towards actually providing treatment for people living with AIDS.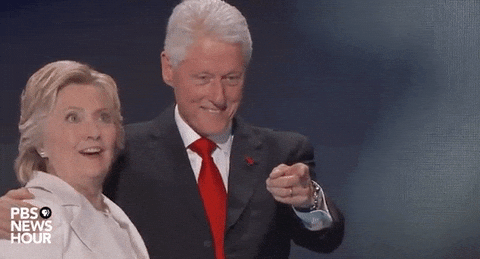 As Breitbart reports, the Clinton Foundation and its appendages have come under significant scrutiny.
In an interview with Breitbart News, Clinton Cash author Peter Schweizer stated it it's possible as little as 6% of the Clinton Foundation's money has been put towards actual charitable causes.
"In particular," Breitbart states, "he pointed to the claims made by Clinton groups such as the Clinton Foundation about their work and noted that even some of those direct services can be 'fuzzy and hazy.'"
"The problem is," the outlet quotes Schweizer as stating, "when you start drilling down on what, precisely, those charitable activities are, and what they have to show for it, it gets really, really fuzzy and hazy."
"So you'll have some charities like Doctors Without Borders will say, 'we immunized 100,000 kids last year.' And you can look at that. That's a very clear metric. Okay, here's where they did it. They were in sub-Saharan Africa. They had all these doctors."
"The Clinton Foundation will say, 'we assisted or facilitated in 100,000 kids getting immunizations.,'" he reportedly added. "Well, okay, what does that mean? And they don't really tell you. They don't really explain to you how it works."
Hillary, Bill and Chelsea Clinton are still listed as board members with CHAI.
Sources:
Breitbart
Breitbart (2)
CHAI
BREAKING: Man Arrested After Travelling To White House To "Kill All White Cops"
The Secret Service has reportedly arrested a man believed to have travelled to the White House from Dallas, Texas intending to "kill all white police" at the Presidential residence.
According to screenshots shared by leading journalist Mike Cernovich, the man made his vow via Facebook.
He also apparently used to app to "check in" at the White House earlier today.
Man (Michael Arega) arrested after traveling to White House to "kill all white police." pic.twitter.com/m5zfORVsZB

— Mike Cernovich 🇺🇸 (@Cernovich) November 6, 2017
The Washington Times, meanwhile, quotes a Secret Service statement as informing the public that they had been on the lookout for Michael Arega after receiving a warning from the Montgomery County, Maryland police department.
Arega was reportedly promptly detained in Washington, D.C. without incident.
Arega's Facebook profile currently lists him as a Quality Control Inspector at Alpha Testing, Inc.
Also shared to Arega's profile is a post from a page called "Unapologetically Black" that features the late Fidel Castro posing with brutal dictator Robert Mugabe.
Another post provides a possible look at Arega himself.
This is a developing story. Please stay tuned to Cernovich.com for more details.
Vice, Newsweek Silent After Journalist Accused Of Robbing, Injuring A Woman At Cernovich Event
Vice, Newsweek and The Guardian remain silent after a journalist claiming to work for the media outlets was accused of robbing a woman and injuring her in the process outside Mike Cernovich's Columbia University event in New York on Monday evening.
As New York Daily News reports, police arrested 30-year-old Arvind Dilawar – who now faces robbery and possession of stolen property charges – outside the event after he allegedly ripped a cellphone out of a 34-year-old woman's hands and ran off.
As Mike Cernovich reported earlier today via Twitter, that woman is believed to be a journalist who was covering the protest outside Mike Cernovich's event.
As of earlier this afternoon, Dilawar's website – which is currently password protected – lists him as a writer for The Guardian, Vice and Newsweek.
HOLY F-CK!

A writer for Vice, Newsweek, and The guardian was arrested for robbing a woman last night at Columbia!

This is media, folks. pic.twitter.com/QIgvsXHdwb

— Mike Cernovich 🇺🇸 (@Cernovich) October 31, 2017
Those outlets have not responded to requests for comment from Cernovich Media related to the incident.
Specifically, Cernovich Media wanted to know how those outlets were handling the serious allegations aimed at Dilawar. The writer himself has also not responded to a request from Cernovich Media for comment.
The circumstances surrounding Dilawar's alleged theft remain unclear but an account from at least one other journalist covering last night's protest outside Columbia University indicates that alt-leftists were less than welcoming towards journalists.
The hostility appears to have been rooted in a fear of having their faces exposed to the public – probably not an unfounded fear considering the infamous tale of one Eric Clanton.
Despite attempts by the alt-left to disrupt Mike Cernovich's event at Columbia yesterday, the Gorilla Mindset author's speech went more or less smoothly. Catch the full speech below.
Trump Agrees To Release Hidden JFK Files: MSM Was Wrong Again.
I have a question. Are the American people entitled to a more transparent version of history? After all, historical events play a massive roll in establishing future political outcomes, sentiment, and direction. So by that accord wouldn't more information be better than less, in regards to making more informed decisions? Are the American people entitled to know the truth when it comes to their own country's history?
This question is certainly applicable to the current political questions being raised about the release of a potential trove of government documents on the JFK assassination. Will we be left with more questions than answers regarding the events that took place on that fateful day in Dallas on November 22nd, 1963? Well, Trump set the speculation to rest when he posted this tweet earlier today.
Subject to the receipt of further information, I will be allowing, as President, the long blocked and classified JFK FILES to be opened.

— Donald J. Trump (@realDonaldTrump) October 21, 2017
The MSM's spin on the topic has been quite visible. Articles filled with wild speculations and anti-Trump rhetoric began circulating around the web. Some saying that if President Trump agreed to let the files become public that pandemonium would ensue. Other articles claiming that it would refuel "conspiracy theorists."
According to Newsweek, "More than 3,000 never-before-seen documents from the FBI, CIA, and Justice Department are set to be released, along with 30,000 that have only been partially released in the past.
The document dump "will simply fuel a new generation of conspiracy theories," write Philip Shenon and Larry J. Sabato." Newsweek continued, "The Archives will release the documents between now and the Oct. 26 deadline, but doing so could be chaotic."
One wildly popular media personality seemed to call Trump's decision before it had been formally announced. Alex Jones of Infowars.com was ont of the few to seem confident about the release of the documents as was evident in this tweet.
.@POTUS is expected to declassify documents relating to the JFK assassination which may debunk the official story! https://t.co/KElyL2Yf6Q 😎

— Alex Jones (@RealAlexJones) October 20, 2017
Politico reported, "Trump, no stranger to conspiracy theories, including totally unsubstantiated theories about a link between Ted Cruz's father and JFK's death." They continued, "s it stands now, the document release this month will be a logistical nightmare, with the public suddenly flooded with a huge online library of documents—tens of thousands in total—that will be, at first, mostly incomprehensible even to experienced students of the assassination."
Politico also writes, "With everything made public at once, pandemonium is all but guaranteed, since major news organizations around the world will want to know, almost instantly, what is in the documents that is new and potentially important. And there will simply be no way for historians and other researchers, even those with a special knowledge of the Kennedy assassination, to make any authoritative judgment as they try to page through tens of thousands of pages of files all at once."
So amid the debate on whether or not these documents should be released, we have to ask ourselves, who benefits? Why does the MSM seem to be so slanted on this topic? Would the American people benefit from learning the truth about the JFK assassination? Is the truth something that unites the American people? Draw your own conclusion but I am of the opinion that not only are we owed the truth, we deserve it.